The legend of Ptomaine Joe was still alive in 2008. We learned that when we asked about her at the museum in Hamilton, Montana. Whenever I said she was my grandmother, the response was always, "Really?!"
They told us her lodge was still alongside the highway and that we just had to stop and see it. I hadn't been there since I was seven years old.
My sister Vivian ("Bib") and I were put on the train in Oklahoma City, and thinking about it now, it boggles my mind that our dad and step mom would have let us take that journey alone when Bib was thirteen and I was only seven. The train was fun, I think. I have some vague memories of running up the aisle, and being gently scolded by the frustrated staff. Our mother and her husband, Harold met us at the station in Missoula. Back then, it seemed to take forever for us to get to the lodge.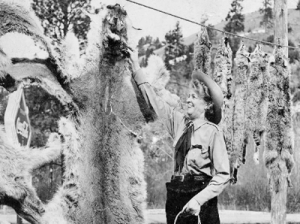 "There it is!" Built of logs harvested on the property in the 1940's, and nestled against the hill, was Grandmother's lodge, looking somehow familiar. Wife and I  parked and went into the restaurant. It was all ready for the lunch crowd but there were no customers yet, and no staff that we could see. However, I clearly remembered the big fireplace. Resting on top of it were three big pictures of my grandmother, and one that also included my mother.
This part of the restaurant had a two story ceiling, with antlers and stuffed deer-head hunting trophies hanging on the wall. Part of the second floor was visible as a balcony that surrounded the room. A stuffed bobcat stood up there, just inside the railing. A shiver went up my spine as I vividly remembered seeing that same old dusty bobcat in the exact same spot when I was a small boy. I hadn't thought of it in years.
"Good morning. We're not open for lunch yet. Anything I can do for you?"
"I was told this place was still here, so we just just stopped to visit. That's my grandmother," I said, pointing to her picture.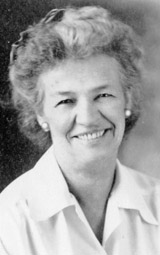 "That one? Your grandmother was Ptomaine Joe?!" Her eyes were wide, and her jaw hung open. Suddenly she said, "Stay right here!" She spun on her heel and ran out. She quickly came back, followed by the lady from the gift shop and the cook.
The gift shop lady just stood there for a while, staring at me with her eyes wide and her mouth hanging open. "You are Ptomaine Joe's grandson?!"
"Yeah. Her name was Jessie, and I lived with her for two years when I was in high school."
I told them who the people were in the photographs, and how I came to stay with her. They had lots of questions, and were most curious about what happened to her immediately after she left Montana.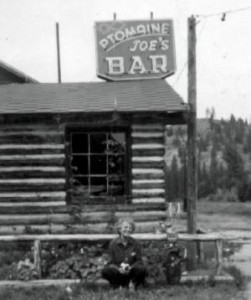 Jessie Barrere White bought a little bar and 620 acres in 1945, then persuaded a fellow named Ole to build the lodge and a larger bar onto the side of it. Apparently, the deal with Ole was that he would do the work in return for drinks in the bar and other "favors." What she wanted was a lodge that could serve as a real saloon for this part of the Bitterroot Valley. When he finished the lodge, it is said that he still owed her $50 for drinks and those other "favors."
One of the stories about building the lodge is that Ole didn't have enough lumber for the underlayment of the roof, so he added some spacers between the planks to make the available lumber cover enough to support the shingles. Years later, while replacing the roof, suddenly shots rang out and the workers scrambled down. It turned out that some of the spacers Ole had used to evenly separate the planks was live rifle ammunition.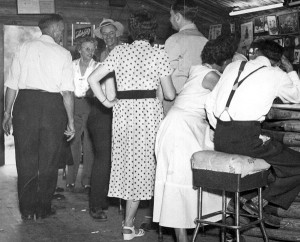 The bar had been updated at some time, but when we went in to see it, the memories were more general than specific. I do remember that there was a small bandstand there, because that's where I did my first saloon singing with a band. The song was, "If I Knew You Was Comin' I'd-a Baked a Cake." (Brahms and I have one little thing in common. I sang only once or twice, but he played piano for many dances in places like this when he was a kid. It was probably German country music.)
Grandmother loved being the host. At night, after closing, some of the local ranchers, assorted cowboys, and staff would often hang around, settling around the fireplace in the lobby of the lodge. Joe would tell stories and recite poetry from memory for several more hours. Sister and I always loved Grandmother's poetry.
Making a saloon consistently pay for itself in those days, before and during World War II would have been pretty difficult. Joe's banker tried to help her keep the lodge, but her financial woes just wouldn't go away. Late on Saturday night, April 15, 1950, the law waltzed in, and out waltzed Joe's liquor license, as the staff explained it. And as far as they knew, it was never renewed.
Sister and I were there during the summer of 1950, and being kids, we wouldn't have been aware that the bar had to have been operating without a license. In fact, it kept operating up until October that year. They said some people had told them that she put a coffee can on the bar and told people to just but some money in it once in a while. How she kept the place going like that for months is a mystery.
Her banker tried to help her business survive, but eventually he told her the only thing she could do was sell it. Six months earlier, she had turned down an offer of $30,000, but it appraised at only $10,000. He was able to find some people to buy it for $18,000, and her time had run out by October.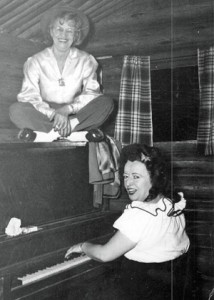 Joe loved being the hostess at her bar. She always loved parties, and had originally opened her new lodge with a big dance. So, it was fitting that to close out this chapter, there should be a party. It was a masquerade ball (using the term loosely here) on Halloween. For her ball gown, she wore her mother's black wedding dress. It was apparently quite an affair.
But that wasn't the complete story. Sometime before the end of the evening, Ptomaine Joe vanished. Nobody saw her leave, but she was nowhere to be found. In fact, no one saw her or heard from her ever again. Until I walked in over 50 years later, they had no idea what had happened to her.
The cook said that sometimes they can hear someone walking around and coming down the stairs, but no one is there. One of the waitresses told me that she was sitting around a table with the current owner and the manager after closing the bar late one night. While they were chatting, Ptomaine Joe walked into the bar, stopped and looked at them, huffed dismissively as if she didn't appreciate them sitting around when there was work to be done, then walked out through the wall on the other side of the bar. They all looked at each other, "Did you see what I just saw?"
In December, I'll tell you what it was like to spend Christmas at Grandmother's farm.