In the beginning was dance. Millions of years ago, when our ancestors first felt the need to communicate, I believe they did it through dance. Over millennia, they added chanting, then singing, then melodic instruments were used as a metaphor for singing, and percussion as a metaphor for dancing, then eventually, vocal sounds became words and language was added to singing.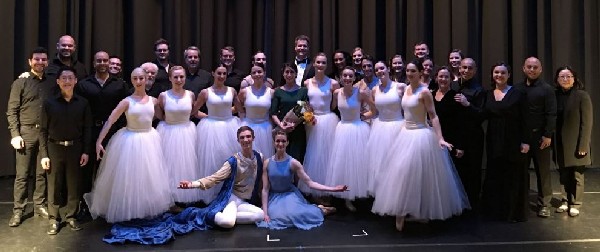 The idea of having a ballet as part of a performance of Handel's "Messiah" was intriguing, but I had no idea how they would carry that off. At the Bellevue City Opera Ballet performance this last weekend at The Theatre at Meydenbauer Center in Bellevue, Washington, my love of this piece was renewed. All Baroque music is based on dance forms, so for me, I feel that listening to the music should make me want to dance with it, even in the slow movements. (Toe tapping and head nodding satisfy the brain's primal need to dance.)
I've heard too many "Messiah" performances that would have been much more fun if I were singing rather than listening. As an audience, I must admit that much of the second half was often the most difficult to sit through. Before the performance, a lady asked me how long it might last. I said "Some performances can be a good three hours," and she kind of sagged and said, "Oh dear."
Well, I have seen the light. Turns out "The Messiah" can tell the story in a wonderfully compelling way. And it was only two and a half very lively hours, because of the cuts, brisk tempos, and the performers' vitality and skill.
Conductor Phillip Tschopp, along with choreographer Sayoko Knode provided a skillful foundation for the chorus, orchestra, soloists, and dancers to make Handel's score and the epic story come alive on several levels: intellectual, emotional, and visceral.
The first highlight for me was the recitative, "Comfort Ye My People." This piece is almost more of an aria, but is in recitative form, and has often started the oratorio with a bit of a thud. Tenor Alan Wheaton walked across the stage amidst the dancers and made the song a truly lovely and comforting message.
I loved that the audience applauded after this and many of the pieces. Applause gives the audience a chance to physically participate in the performance. It keeps them engaged, and that is always a good thing.
And it was the perfect preface to "Ev'ry Valley," sung by tenor Brendan Tuohy, who happens to be about twice as big as Wheaton. The music worked, even at a break-neck tempo.
Speaking of break-neck tempos (or tempi, if you prefer), when Tschopp began "For Unto Us a Child is Born," I almost expected the singers to slow it down when they came in, but not only did they keep the tempo, they performed it from memory with choreography for both singers and dancers.  To be honest, most long-time chorus singers have done the piece many times, and doing it from memory wouldn't be that difficult.
One of my favorite scenes was the "Annunciation to the Shepherds." Two young men joyfully danced and frolicked around the stage as shepherds, petting their imaginary sheep. When the host of angels (dancers and chorus) raised their arms and broke into "Glory to God," the shepherds fell flat onto the stage in astonishment and fright. The audience laughed out loud. It was fun, and the choreography for chorus and dancers in that scene along with the music, made it a truly glorious moment.
The second part of "The Messiah" can be tricky in performance, and for some audience members it has been an opportunity for a quick nap. But not in this production. "He was Despised and Rejected of Men" was staged with dancer and soloist alternately stepping into, and out of, a starkly lit rectangle at center stage. In the dark theatre, it made them seem to appear and disappear before our eyes. The dark and spooky words and music were the perfect material for countertenor José Luis Muñoz. And a countertenor was a perfect choice for the aria. Countertenors (male altos) performed solos in "The Messiah" in Handel's time, and it was a thrill to hear that voice applied to that music in the midst of compelling dance.
Hearing Charles Robert Stephens sing "Why Do the Nations So Furiously Rage Together" made me wish all the world would really "get" those words. Listening to it sung at 90 mph made it difficult for me to breathe until it was over, but it was exciting.
The choreography made the "Hallelujah!" chorus come alive all over again. The fellow sitting next to me didn't know why the audience stood up for it, but the way it was presented in the performance compelled the audience to participate, and they jumped at the opportunity. I think someone down front joyfully sang along, but not well.
For the finale, the chorus and dancers lined up across the stage and sang "Worthy is the Lamb" that includes the "Blessing and Honor" section and the joyful and triumphant "Amen" fugue. It was a fitting and an emotional finish.
The standing ovation went on much longer than the performers expected. Phillip Tschopp and Sayoko Knode led the bows, then they had to do it again, then they had to do it again, and yet again.
Other soloists who performed with distinction were alto Marjorie Bunday with "And the Glory, the Glory of the Lord" as well as soprano Caitlin Cisler and mezzo soprano Erin Calata, with"Rejoice greatly, O daughter of Zion" among other solos, and mezzo soprano Cherys McLeod Lewis with "Then shall be brought to pass."
Dancers of note were Nathan Cook as the Messiah, and Shannan Behrens as Mary, but all were true to their craft, to the music, and to the story.
The orchestra could have benefited from one more rehearsal, but so could all of us. I did see some former outstanding musicians from the Performing Arts Festival of the Eastside in the orchestra, such as Evan Hjort, Evan Johanson, Takumi Taguchi, and Esther Lee.
I wish so much that I could write more knowledgeably about the dancers' work, but I'll just bring it back to the beginning and say that language and music in humankind was made possible because of dance. Yes, I danced along with my head, my toes, and my heart.
In Italian, the word "opus" refers to a work of art, and the word "opera" is the plural form. This production of "The Messiah" truly brought together a wide variety of works into one "opera."
© 2015 by Michael Kysar
All Rights Reserved