My favorite experience with a Donizetti opera involves my wife, several of my dearest friends, and soprano Beverly Sills backstage at Seattle Opera. Sills acquired her nickname, "Bubbles", when as a teenager, she sang in a television soap commercial.
There are no shortcuts to any place worth going. — Beverly Sills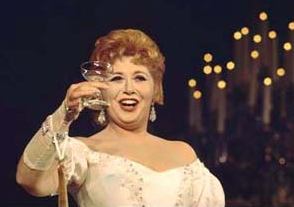 Once upon a time, many years ago, I mentioned to my friend Hans Wolf, associate conductor at Seattle Opera, and with whom I had gone backstage during performances many times, that since the show was sold out, my wife and I would not be able to hear Beverly Sills sing Donizetti's "Lucia di Lammermoor" that season. He called me a few days later and said that he had asked the stage manager if it would be all right for me and my wife to sit backstage during a performance, and amazingly, she had given permission.
I have a history of going backstage during or after performances (even at Royal Albert Hall to introduce myself to Leopold Stokowski), but my wife has never gone with me. She just knows that we will be tossed out. OK, I admit it: I have been tossed out of backstage during performances at some pretty classy places, including Seattle Opera, but I also have gotten away with it many times, including at Royal Albert Hall.
Singing opposite Sills in that 1972 production were baritone Robert
Peterson as the bad guy Lord Ashton, and tenor Gerald Thorsen (Jerry) as the good guy Sir Edgardo. I'd known Bob for several years, because I studied with his wife, Phyllis Peterson. During intermission Bob introduced me to Jerry, and the two of them have remained close friends. (After retiring from opera, Jerry sang in my choir for about 15 years.) Later that evening, Jerry gave us a personal introduction to Beverly Sills.
During the performance, we were sitting in the dark, on stage right. The great Sills wandered over and sat next to my wife while waiting for her cue. Later, just before the "mad scene", we were standing outside the dressing rooms when Sills walked up to us and smiled. My wife said, "Listening to you makes me wish I could sing." Bubbles chuckled and said with a Yiddish accent, "Count your blessings!"
You can still find the program for that production of "Lucia di Lammermoor" at Seattle Opera.
© 2015 by Michael Kysar