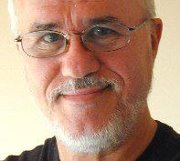 Michael Kysar is mostly a has been!
He has been a teacher, conductor, singer, music publisher, theatrical and concert producer, mentor, concert host, husband for 50+ years and a dad. He has also been a Microsoft Program Manager for MSNBC, writer, computer programmer, documentation designer, leader, entrepreneur, webmaster, innovator, wit, and halfwit. He still is some of those things.
He has also been a world traveler, with Paris a favorite city for both he and his wife. There is also some flimsy evidence that he has been a time traveler. He has a vivid memory of walking through the Vatican in the 1600's wearing a red robe, and canoodling with a nun who is now his current wife. There is another memory of walking out of a pub in a New England fishing village in the early 1800's, scratching his beard, lighting his pipe, and looking across the harbor to see his ship.
He is a friend or has had personal conversations with conductor Leopold Stokowsky, jazz singers Bill Williams and Jon Hendricks, recording and concert singer Marni Nixon, composer Paul Creston, conductor Helmuth Rilling, concert singer Thomas Quasthoff, and opera singer Beverly Sills. He loves to go backstage after or sometimes during performances (Royal Albert Hall, for example), and he has probably been tossed out of the Seattle Opera backstage more times than anyone else. The baby grand piano in his house was gratefully inherited from his dear friend and mentor, Hans Wolf through his voice teacher, Phyllis Peterson.
For his last two years of high school, he lived with his grandmother and her ninth husband. Years before, she had been known as the legendary "Ptomaine Joe", a saloon owner in the Bitterroot Valley of Montana back in the 1940's where they thought she had literally vanished at midnight on Halloween night in 1950. The bar is still there, and they say she still visits sometimes around midnight.
For a more detailed bio, see About Michael on his website.