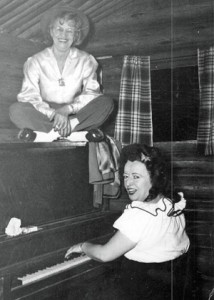 My grandmother, Jessie Barrere, (that's her on top of the piano) bought a little one-room bar with a bunch of land in the southern Bitterroot Valley, near Darby, Montana. It was about 1945, and she named it "Ptomaine Joe's Bar." Over the next two years, she built a lodge onto the side, and created a real western saloon. She also created her own legend.
Many years later, I visited the lodge and asked some of the people who live in Darby what the word "saloon" meant to them, and they said first of all, it is a bar with food, and it had to have a piano and maybe a band on weekends. Having some rooms available upstairs for the "girls" was also important. I know, however,  that for part of the year, those rooms were rented to hunting guides.
This invitation, which I only recently discovered among her things, was written by Ptomaine Joe herself. I love the lumpy rhythms and the irregular stanzas.
Come to Ptomaine Joe's
Have you ever spent a long lonely night
Or lost your only friend?
Have you ever been hurt by someone's spite,
Been broke with no money to spend?
Have you ever wished for a spot to hold
And call just your very own?
Not a place too hot nor yet too cold,
In a place you could call your home?
Have you ever wished you were free from care
When troubles burden your heart?
I know you have. We all do, you know;
Man and woman, we're all the same.
Load up those worries and come to Joe's,
You'll never be sorry you came.
That lonely night will be the forgotten past,
The lost friend, the acquaintance you knew,
Your spiteful hurt will never last,
Being broke will be fun for you.
Just relax yourself by her fireplace,
It's cozy and it's home to all.
Your troubles will vanish into empty space,
You'll be so glad you came to call.
Remember this, friend, when you're feeling low,
And you won't be long with care.
Just bundle your troubles and come see Joe,
You'll be right damn glad you're there!
© 1945, 2015 by Michael Kysar
All Rights Reserved