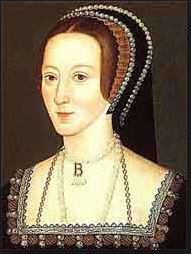 My favorite opera this week is "Anna Bolena" by Gaetano Donizetti. And my list of favorite singers this week begins with soprano Jennifer Bromagen, who sang the title role with Puget Sound Concert Opera on Sunday afternoon, September 27, 2015.
Frequently over the years, in working with young singers, I have found myself saying something like, "If you sing a sad song and don't break my heart, then you aren't doing it right." Jennifer's "mad scene" aria was, on the whole, heartbreakingly beautiful. I apologized to her for being unable to wait for the end of the opera to blow my nose.
Other favorite singers this week are mezzo soprano Nerys Jones who, aside from singing consistently beautifully throughout, wins my prize for having the most precise and musical Italian diction. More favorites: bass Jonathan Silvia, soprano Regina Thomas, tenor Tim Janecke, baritone Ryan Christopher Bede, and tenor Colin Ward.
The tight rehearsal schedule for this production gave everyone a pretty hard workout. Several of the singers were fighting fatigue, but everyone rose above their fatigue to deliver the music faithfully and well. Some delivered superwoman performances, such as Jennifer, who also sang two other gigs the same weekend, and Nerys, who went for a long hike that morning, and Ryan, who has both a three-year-old and a pregnant wife at home.
Conductor Bernard Kwiram arranged the orchestra parts for strings, flute and piano. His score could be invaluable in a university setting for students of singing and conducting to work through scenes from this opera without marshaling the entire department to get some mileage on operatic literature.
Puget Sound Concert Opera fills an important role in the Puget Sound region. Each year PSCO produces two or three full operas performed in concert, plus one or two opera revues. Each event features a solid core of professional singers. The selected operas may be rarely performed gems, or standard grand operas that young singers would have a hard time competing for major roles in a large production company. The next opera will be "La Rondine" by Puccini.
For more information about PSCO, go to pugetsoundconcertopera.org. You can also see bios of each of the artists. You might also enjoy this fun description of "How to Listen to Bel Canto" by Jonathan Dean (Seattle Opera Blog from 2010).
© 2015 by Michael Kysar